Feb 8 - Casino Moderne
Submitted by admin on Sat, 11/09/2013 - 05:49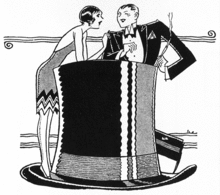 On Saturday, February 8, 2014 the Art Deco Society of Los Angeles presents "Casino Moderne". With a nod to the HBO series, "Boardwalk Empire" that is set in 1920 during Prohibition, the ADSLA offers a step back in time. For one magical night, our guests will be able to immerse themselves in living history, vintage style, legal gaming tables and prohibition-era cocktails in the oldest private club in Los Angeles. The Los Angeles Athletic Club was founded in 1880 and counts many of old Hollywood's glitterati among its members. The evening begins at 7pm. Enjoy 4 hours of drinking Sidecars, savoring hors d' oeuvres, pasta bar and taking your chances at the medley of gaming tables from Poker to Roulette.
1920s dress in encouraged, but not required.
The ADSLA is a 501(c)(3) non-profit organization that focuses on the celebration and preservation of the architecture, art, music, dance, clothing and elegance of Art Deco.
A portion of your ticket price is tax deductible.
---
TICKETS
ADSLA and LAAC Members - $50
Non-Members - $65
Tickets will go up $10 at the door.
Purchase Tickets Online
Go to the Brown Paper Tickets Website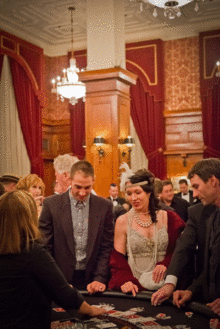 Members, your discount code is in the text of the most recent ADSLA emails. On the Brown Paper Tickets event page click on "Enter a Password or Discount Code" and enter your code. This will display your Membership ticket options.
If you can't find your code, contact adsla.membership@gmail.com .
Purchase Tickets over the phone
You can also order tickets over the phone by calling Brown Paper Tickets at 800-838-3006.
Customer Support 24/7
Email support@brownpapertickets.com or phone 800-838-3006.
---
"Casino Moderne" takes place on the 3rd Floor of the Los Angeles Athletic Club.
"Casino Moderne" is a fundraiser for the Art Deco Society of Los Angeles. The ADSLA is is a 501(c)(3) non-profit organization. Please consider your unused tickets as a contribution to our organization.
Current membership will be verified at the door. Please provide a photo ID and proof of current membership. If no proof of membership is produced at this time, attendee will be responsible for paying the difference between the Member and Non-member price.
To check the status of your ADSLA membership, please email membership@adsla.org.
Parking $7. Parking structure is adjacent to the Club. Entrance is just past LAAC's awning on the right.
Spend the night in Charlie Chaplin or Rudy Valentino's rooms.
The Los Angeles Athletic Club has generously offered attendees to "Casino Moderne" discounted rooms in their historic hotel. The room rate is $159.00 for a Deluxe Room with one bed. Rate includes American Buffet Breakfast in their third floor Grill Room, in-room WiFi, and use of the Athletic Facility. Not included is the city occupancy tax. Call 1-800-421-8777 to book your room.
Location
Los Angeles Athletic Club
431 West Seventh Street
Los Angeles
Location
Javascript is required to view this map.